INUS Akademie HP Karin Bak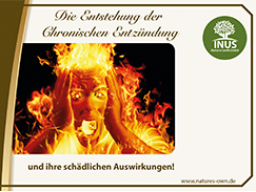 Die Entstehung der chronischen Entzündung und ihre schädlichen Auswirkungen.
In Gesundheit > Fachvorträge
Location:

Live webinar

Price:

for free

Number of participants:

maximum 300

Minimal attendance:

10

Application deadline:

1 hour before the start

Language:

German
Still und heimlich breitet sie sich in unserem Körper aus - die chron. Entzündung! Was viele Menschen nicht wissen: die chron. Entzündung kostet Lebenszeit! Sie ist heute als neue Geißel der Menschheit anzusehen, weil die schädlichen Prozesse schleichend im Körper ablaufen, teilweise mit fatalen Folgen. In diesem online- Seminar beschreibt die erfahrene Heilpraktikerin den Ablauf und die Hintergründe zur chron. Entzündung, geht intensiv auf den TNF-a-Faktor ein und zeigt bewährte Diagnose- und Therapiewege auf.