INUS Akademie HP Karin Bak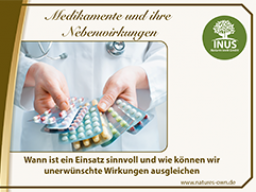 Medikamente und ihre Nebenwirkungen: Wann ist der Einsatz sinnvoll und wie können wir unerwünschte Wirkungen ausgleichen?
In Gesundheit > Fachvorträge
Location:

Live webinar

Price:

for free

Number of participants:

maximum 300

Minimal attendance:

10

Application deadline:

1 hour before the start

Language:

German
Medikamente retten Leben und sind eine der größten Errungenschaften der Menschheit. Einziger Nachteil - die unerwünschten Nebenwirkungen. Diese verursachen eine Vielzahl von gesundheitlichen Beschwerden. Die häufigsten Ursachen sind falsche Dosierungen, falsche Kombination verschiedener Medikamente, unbeachtete genetische Varianten im Fremdstoffmetabolismus, unbeachtete medikationsbedingte Störungen im Stoffwechsel der Mikronährstoffe und natürlich die Arzneimittelstoffe, die in sich belasten können. Der etwas andere Blick auf Medikamente.