INUS Akademie HP Karin Bak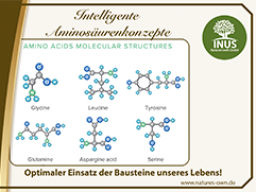 Intelligente Aminosäuren-Konzepte: Optimaler Einsatz der Bausteine unseres Lebens!
In Gesundheit > Fachvorträge
Location:

Live webinar

Price:

for free

Number of participants:

maximum 300

Minimal attendance:

10

Application deadline:

1 hour before the start

Language:

German
Ohne Aminosäuren ist kein Leben möglich, denn sie sind für viele Abläufe in unserem Körper mit verantwortlich. Aminosäurendefizits können sich dann in Form von Neurostress wie Burn-Out, Bluthochdruck und Herzmuskelschwäche, Leberentgiftungsstörungen oder Muskelschwäche äußern. Mit Hilfe intelligenter Aminosäuren- Konzepte lassen sich die Bausteine des Lebens optimal einsetzen.